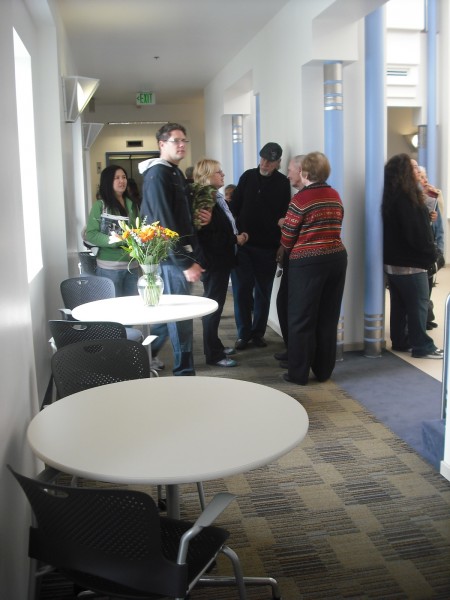 Informal seating clusters, like the new coffee corner, encourage browsing, relaxing and reading at the redesigned Oceanside Public Library.
OCEANSIDE, Calif. (April 11, 2011) – Recent interior redesigns at the Oceanside Library give the public institution a marketplace theme that encourages more browsing and gives library staff an opportunity to put more focus on people.
Designed within strict budget constraints by San Diego's domusstudio architecture, founded in 1986 as Dominy + Associates Architects, the interior remodel rejuvenates the two-story, 30,000-square-foot library.
Four highlights of the civic redesign that are integral to the marketplace theme include:
informal seating clusters – a new coffee corner, study rooms, and lounge areas for adults, teens and tweens – encourage browsing, relaxing and reading;
additional service technology stations to assist customers in helping themselves to online research or checking out materials;
more displays and eye-catching collections in the library's arrival area to give a retail approach;
a new children's room with bookshelves that are shorter and angled so that library staff is better able to interact with customers.
Part of the Oceanside Civic Center designed in 1985 by Charles Moore, the library's architecture is characterized by a two-story atrium, well-lit from above by a row of large clerestory windows. The redesign by domusstudio architecture maintains the noted American architect's vision, while breathing new life into the structure with the integration of a marketplace theme.
domusstudio architecture previously worked with the County of San Diego to implement a new marketplace concept at four branch libraries.
"Several existing libraries are retrofitting to this model," said domusstudio Principal David Pfeifer, AIA. "It's amazing how much of this new service model can be accomplished within existing libraries designed under traditional thinking. You don't need to tear down and start over; you can do an adaptive reuse."