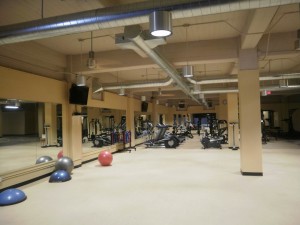 September is National Yoga Month, and we've rolled out our mats—blueprints that is—to review designs with built-in wellness centers.
According to an article on selfgrowth.com, "10 Reasons to Encourage Fitness in the Workplace," there are great benefits to having a wellness area for employee or member use. Those who are fit are less likely to get sick, have more energy and self-confidence, tend to have better attitudes and are less stressed. By keeping employees (or members) healthy, organizations tend to stay healthy as well.
Members of the domusstudio team had the opportunity to work on one such project for the Port of San Diego in their eight-story building, located on Pacific Coast Highway.
We utilized one of the building's unused floors to create an exercise room, complete with space for stretching and practicing yoga. The nearly 3,000-square-foot area hadn't been used for many years, so we redesigned the space to include new paint, mechanical, and cushion flooring for yoga.