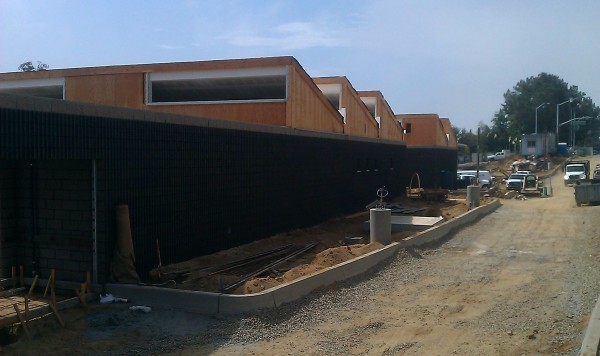 Encinitas Fire Station #2 is under way! This project continues domusstudio's relationship with the City, and when completed will complement Encinitas Fire Station #5 and Encinitas Fire Station #3 in the firm's portfolio that are now serving the public. Here's a Q&A with domusstudio architect Wayne Holtan regarding the status of the project.
1) What are the project basics?
The new fire station construction is highly visible along Interstate 5 and the Birmingham Drive exit in Encinitas, specifically Cardiff by the Sea. This new project is a replacement for the outdated existing Fire Station #2 building, and is to be located east of the existing station site.
The proposed new fire station will be single story, and 6,330 square-feet.
2) What inspired the design of this project?
Conceptually, the sloping sawtooth roof lines and clearstory windows are intended to emulate Encinitas's history of flower fields and greenhouses. To further project Encinitas's historic identity, the Poinsettia flower will be represented graphically on the masonry wall.
3) Will the building incorporate sustainable features?
The building will incorporate sustainable design elements that will align with the USGBC's LEED Silver certification. Some of these key elements will be; use of regional building materials, clerestory interior day lighting, storm water quality control bios wale, drought tolerant landscaping and future installation of photovoltaic panels.
The building is designed to mitigate the freeway noise with the use of a continuous decorative concrete masonry wall fronting Interstate 5 with elements incorporated that respond to the freeway visibility. The colors will be shades of gray and the masonry is proposed to incorporate offsetting faces with heavy fluted textures. The roofs will be sloped, standing seam metal facing south to allow optimal sun orientation and efficient solar collecting by the future photovoltaic panels. Between the masonry wall and sloping roof, clearstory windows are formed that allow for effective interior day lighting.
4) Any other new and interesting features we should know about?
Other features include a free- standing hose drying tower. The tower is cylindrical in plan and covered with perforated metal panels to enclose the hose drying lift.
domusstudio has been the architect for many civil projects, including multiple fire stations,  libraries and as the architect for many San Diego Symphony projects.