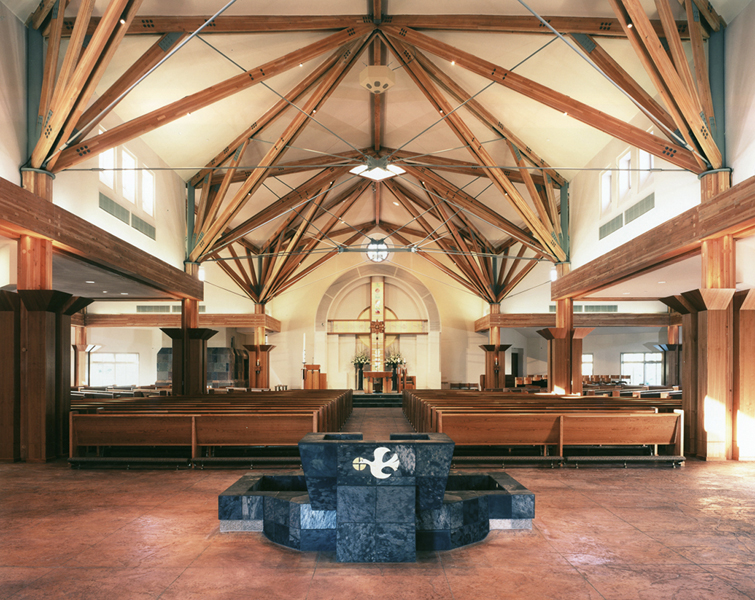 Parish Center construction progress is illustrated front and center at St. Elizabeth Seton Catholic Church. Click to check it out.
Complementing the church's award-winning sanctuary, the two-story Parish Center features similar materials, window shapes and sizes, colonnades, roof design and trellis work.
One highlight of the project is a new coffee kiosk in the central courtyard plaza that will augment the outdoor fellowship and gatherings for the campus.
Another feature of the new Parish Center is the 4,630-square-foot second-story social hall. Showcasing high-volume wood-beamed ceilings, the venue will have the flexibility to serve as a conference facility – with dual large format presentation screens and advanced audio-visual features – or a social event setting, with dance floor, stage, dinner seating for 300-plus and kitchen facilities to service such events. Overlooking the campus' outdoor courtyard plaza, the social hall can expand into a covered patio for overflow seating and gatherings.
The lower level of the new building includes a series of meeting rooms, a youth room and offices to serve the growing sacred education program and other ministries.
As with all our church architecture projects, St. Elizabeth's new Parish Center is designed to express and evoke an appropriate ethereal connection that is something beyond four walls and a roof. We feel this even in the chaos of construction. See what you think.