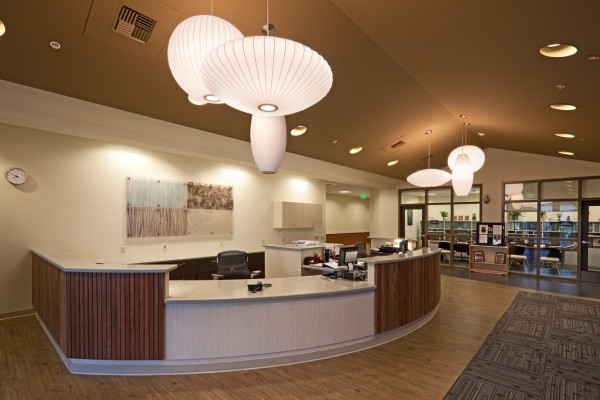 The Navy's newest childcare center opened recently in Point Loma, designed per military guidelines by domusstudio architecture to feel more like a home than an institution.
As part of the design/build team with general contractor T.B. Penick & Sons, Inc., domusstudio architecture provided planning and design services for the 25,866-square-foot Patrick Wade Child Development Center (CDC). Named for an American war hero who died in Iraq in 2007, the new facility is state-of-the-art but also "home-like" for 72 employees and 218 children ages 6 weeks to 5 years.
"The Navy's guidelines call for us to design through the eyes of a child," said John Pyjar of domusstudio architecture. "We are encouraged to avoid an institutional approach and to create an appropriate, well thought out and attractive environment. The space should be inviting and feel like home.
The lobby of the new CDC exhibits this intention with an accessible, child-size scale and subtle earth tones that encourage creativity. The entry's gabled ceiling with paper lantern-like lamps hanging at varied lengths accentuates a family room feeling. Nature-inspired artwork also lends to the calming ambience of the reception area.
Founded in 1986 as Dominy + Associates, domusstudio architecture is a San Diego architectural design firm specializing in sacred facilities, fire stations, educational buildings, senior housing and custom residential projects. For more information about projects and services, call 619-692-9393 or fill out our contact form here.