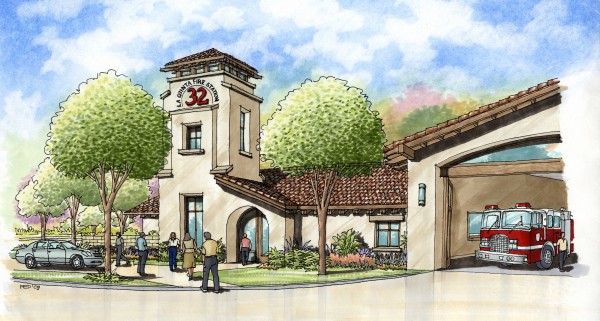 SAN DIEGO  (Nov. 23, 2009) — Domusstudio Architecture, with more than half a dozen stations built or in design and construction throughout Southern California, recently celebrated a groundbreaking for La Quinta Fire Station No. 32.
Expected to be built in early fall 2010, the $6.8 million project in the renowned golf community in Riverside County incorporates a 7,200-square-foot fire station as well as improvements to the neighboring City Corporate Yard, where public works equipment is parked.
"The selection of Domusstudio Architecture was based on their experience and the fresh outlook they had for what we wanted to do," explained CALFIRE/Riverside County Fire Division Chief Dorian J. Cooley. Cooley was part of the three-person selection committee, which reviewed more than 20 proposals.
Featuring state-of-the-art technology and energy-efficient systems, the new fire station meets the ongoing needs of firefighters but also fits into the character of the Spanish Colonial-themed La Quinta Village area, according to Wayne Holtan, a principal at Domusstudio Architecture in San Diego.