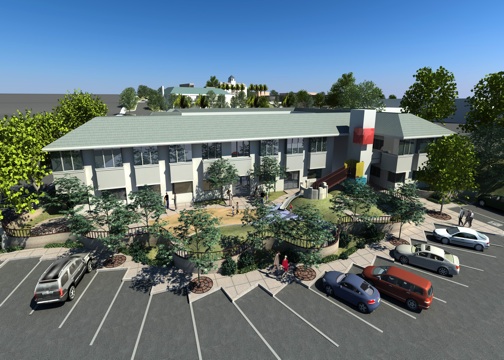 SOLANA BEACH (Feb. 16, 2011) – Plans for an updated preschool at Solana Beach Presbyterian Church will serve as many as 40 more children in the community and include an expanded new outdoor play area, according to church architects domusstudio architecture.
The new preschool will occupy the lower level of a 25,000-square-foot office building owned by the church and neighboring the church campus at Stevens Avenue and San Rodolfo Drive.
"Our Preschool has been a part of the community for more than 46 years and looks forward to serving families for many more years to come," said Pam Dvorak, preschool director.  "Children that once attended our school now bring their children. We are excited to continue to play, learn and show God's love in our new location on our church campus."
Pending conditional use permit approval from the City of Solana Beach and the Coastal Commission, tenant improvements on the building could begin as soon as fall 2011 and be completed in early 2012.
Last month the church notified its neighbors of the plans and invited all to attend an open house viewing of the plans with the architects. The community response was very positive, and the plans continue to be available for viewing at City Hall.
"Operating since 1964, Solana Beach Presbyterian Preschool is a valuable community asset," said Jon Dominy of domusstudio architecture in San Diego. "This much-needed expansion will allow for better visibility and connectivity with the community and will allow the preschool to serve the community better. Replacing nearly 50-year-old buildings, the new facilities will be made accessible, brighter and code compliant, and will incorporate the latest in technology and safety for the children."
The master plan for the church, including the updated preschool, is designed by domusstudio architecture, founded in 1986 as Dominy + Associates Architects.
In addition to San Diego-based domusstudio architecture and M. W. Peltz & Associates Landscape Architects of Solana Beach, consultants on the project include Sowards & Brown Engineering of Cardiff-by-the-Sea and Linscott Law & Greenspan Engineers, with offices in San Diego.