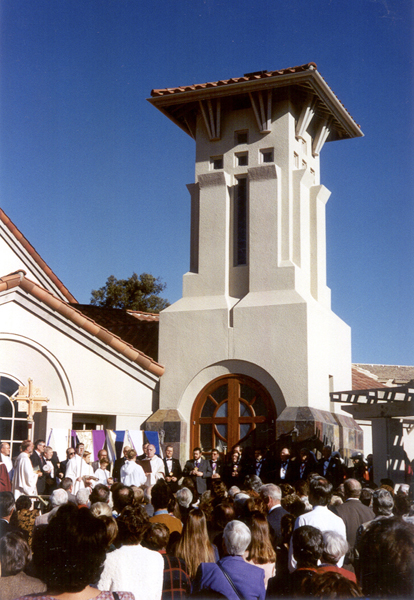 It was the 10-year anniversary of the terror attacks of Sept. 11, 2001, a somber day of remembrance for most, but also a day of celebration at St. Elizabeth Seton Catholic Church.
Sept. 11, 2011 was dedication day for the new Parish Center at the Carlsbad parish. Hundreds turned out to witness the blessing of the building by Bishop Robert Brom and Father Don Coleman and to get a first look of the beautiful 18,443-square-foot, two-story structure.
Designed as part of a master plan by domusstudio architecture, St. Elizabeth Seton's new Parish Center contributes to a cohesive church campus and matches the award-winning sanctuary the San Diego architecture firm designed more than 15 years ago.
domusstudio's Wayne Holtan, AIA, was the partner in charge of the project, and CW Driver was the general contractor. Parishioner Pete Kruse of Kruse Development Services, Inc., was the project manager on behalf of the Diocese of San Diego.
Founded in 1986 as Dominy + Associates, domusstudio architecture is a San Diego architectural design firm specializing in sacred facilities, fire stations, educational buildings, senior housing and custom residential projects. For more information about projects and services, call 619-692-9393.