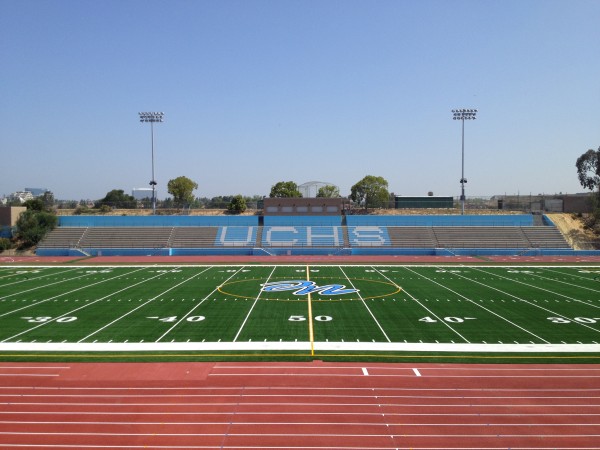 On June 12, approximately 400 University City High School seniors will enjoy their graduation ceremony on a new athletic field designed by San Diego-based domusstudio architecture. The new athletic field is part of a multi-phase domusstudio-designed facelift for the 31-year-old campus.
The Centurions' upgraded athletic field and facilities include new artificial turf for the football field and track, a new scoreboard, sound system and energy-efficient lighting for the football field and surrounding track.
This is the first phase in a series of improvements that will ultimately include a new vehicular drop-off, pedestrian walkway, and colonnaded Athletic Services building and plaza to create a dramatic new entry to the football field. The Athletic Services building and plaza will house new ticket booths, restrooms and concessions. Within the plaza, the home team will have a gathering space for pep rallies, fan festivals, barbecues and other fundraising events.
"We're very happy for the 2012 graduates, who, with their friends and families, will get to experience one of life's major milestones on the new athletic field," said domusstudio architecture Principal Wayne Holtan, AIA.
A future phase of athletic facility improvements is expected to start within the next two years. These will include new scoreboards, dugouts, fences, turf and upgrades to the school's baseball, softball and soccer fields on the school's upper mesa, as well as to the tennis and multipurpose courts.
"Our designs incorporate numerous changes – big and small – that will significantly improve the efficiency and accessibility of the campus as well as the school's overall appeal," added Holtan. "We have worked together with the district, school administrators, parents and community members to create a plan that will result in a better campus for the next 30 years."
Other planned upgrades to the main campus include improved pedestrian and vehicular traffic patterns, including a new student drop-off in the front of the school; a remodel of the school's administration building that will include new offices, larger restrooms and an updated floor plan that will make the workspace more efficient and operationally friendlier; and changes in the counseling area that will increase student privacy.
Finally, the school's gym will see accessibility improvements, and remodeled locker rooms to include additional boys and girls Team Rooms, as well as an expanded Training Room.
Modernization efforts will incorporate elements for sustainability and are being coordinated with construction of a solar lease photovoltaic system, already installed. Other sustainable design concepts will be determined through the course of design review and will include skylights to allow natural lighting, low-flow fixtures and the use of recycled materials.
UCHS's Modernization and Athletic Facilities projects are funded by Proposition S. Passed in 2008, Proposition S is the $2.1 billion general obligation bond program that provides resources for the San Diego Unified School District to repair, renovate and revitalize neighborhood schools.
San Diego's domusstudio architecture has been selected by San Diego Unified School District for several school improvement projects funded in part by Proposition S. The scope of the work by the 26-year-old architecture firm ranges by project and spans three local schools, including University City High School. Domusstudio architecture also is designing a campus modernization at Audubon Elementary School. At the School of Creative and Performing Arts, domusstudio designs include a College, Career & Technical Education (CCTE) project for a remodeled television studio/classroom and accessibility improvements to the Grand Theater building.
For more information about domusstudio projects and services, call 619-692-9393.