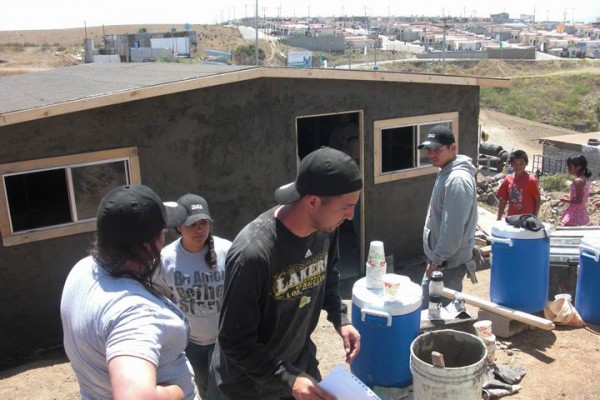 For the past six years, Solana Beach Presbyterian Church has sent teams into Mexico to build homes for families in need. Over Memorial Day weekend, during his fifth trip, domusstudio's Lew Dominy joined 230 others to complete their 106th home or "casa." A Christian organization known as Amor Ministries organizes, prepares the site, and stacks the materials for the build team.
This year, Hoehn Motors sponsored a group of employees who had never experienced building a home in Mexico. There were also some folks from a small Presbyterian Church in Rosarito on the Hoehn and Dominy team. Together, they completed the small four-room home in three days. It is one of nine homes built this year by a Solana Beach Presbyterian team.
The recipients of the home, a family with three little kids, previously lived in a 10-foot by 10-foot hut on the side of a hill. Their gratitude for their new home is overwhelming.
"It is a fantastic opportunity, and I have a whole new bunch of friends from both sides of the border with whom I am forever bonded," said Lew. "The Hoehn crew had such a terrific attitude, worked hard, and added so much to our experience. They were all absolutely wonderful— what a team and credit to Hoehn!"
Learn more about the project  Learn more about Lew (more…)